Online Oil Monitoring System combines multiple sensor functions in one, which can automatically detect the moisture, density, viscosity, dielectric constant, water activity, pollution degree, wear debris particles and temperature. The data collected internally in real time is analyzed and processed by wired or wireless means and sent to the monitoring terminal and the cloud, which can be monitored remotely by mobile phone or comput
What can Online Oil Monitoring System help?
1.Following up and monitoring the wearing state and changing trend of equipment.
2.Providing the scientific basis for equipment man agement operator make machine halt maintenance plan and extensive maintenance plan.
3.Achieving maximum machinery and lubricant efficiency, could detect and repair the hidden fault in time, and extend the period of extensive maintenance.users benefit from reduced operational and maintenance costs, efficient productivity.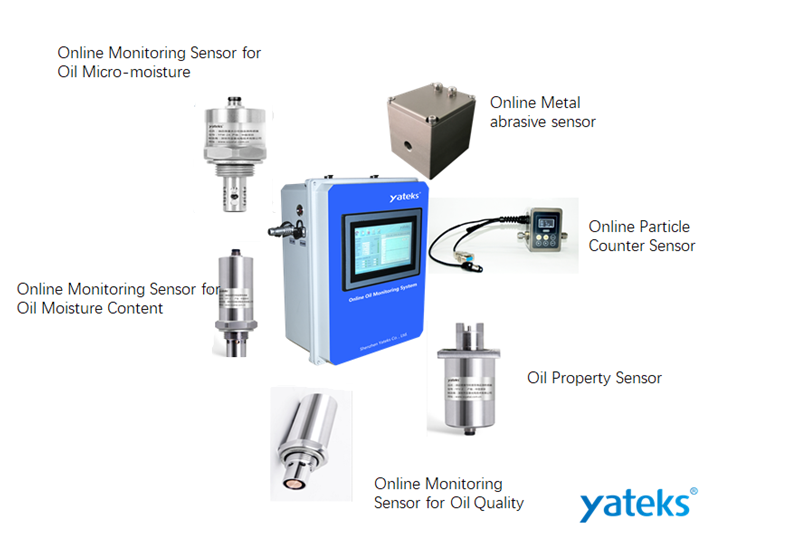 Features:
1.Standardization of non-standard products
Directly connected to the oil circuit, Easy to operate with one key touching to start and real-time monitoring and detecting
2.Modular design:
Integrated with a variety of sensors according to customer's demands.
3.Wide range of detection:
Meet the requirements of accurate and efficient condition monitoring under high accuracy and reducing cost.
4.Tele-diagnosis:
Free choice of wired/wireless transmission, automatic warning in the background;
Free storage in the cloud, real-time computer/phone viewing and remote monitoring.
5.Historical data for change trend tracking and better for data analysis and investigation.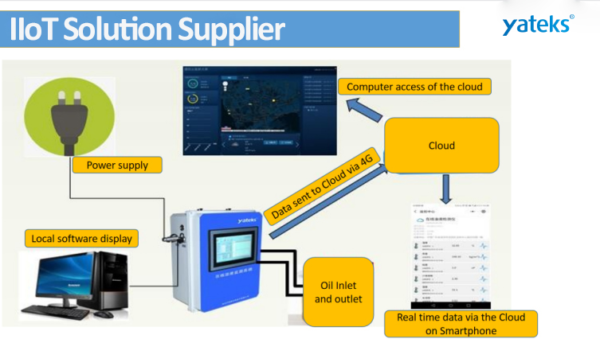 Application:
Online Oil Monitoring System is widely applied to online monitor lubricating oil, hydraulic oil, gear oil, gasoline, diesel oil, jet fuel, kerosene, biodiesel, ethanol, chemical reagent and coating ink.
Petrochemical –Monitoring production equipment, Pumps, etc.
Mining –Monitoring production equipment, Bulldozer, Digging machine
Construction — Monitoring Tunnel machine
Power industry –Monitoring generator, Turbine, Boiler, etc.
Wind power machine –Monitoring Engine and Generator's condition
Ship / Vessels –Ship Engine, Propeller, Residual fuel
Heavy Vehicle –Monitoring Engine and Gearbox condition, etc.
Cement plant–Monitoring production equipment
Installation:
1.The inlet and outlet of the online monitoring system are directly connected to the user's oil circuit, without the need for secondary development;
2.Equipped with Yateks software, measurement data can be displayed on the machine's own screen, your mobile phone, cloud;