YTS-M-1 Oil Micro-Moisture Sensor is aPower transformer and reactor are the valuable assets of the power industry. Real-time monitoring the micro-moisture of insulating oil plays a crucial role in the running of these valuable assets. Because of the existence of moisture will lower the breakdown voltage of insulating oil, increase the dielectric loss and accelerate the degradation of polymer insulation aging. These will reduce the performance of the insulation system and even cause insulation breakdown and partial discharge, which will seriously affect the safe operation of power system.
YTS-M-1 applies the world advanced moisture and temperature detecting sensor,with a high degree of accuracy, it can continuously and quickly provide the water activity, water content and temperature data in harsh operating conditions.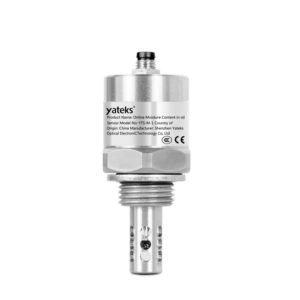 Application:
Power industry: monitor the insulation oil of the transformer and reactor
Industrial machinery industry: monitor the lubricating oil and hydraulic oil of mechanical equipment
Transportation industry: monitor the engine oil of ships and vehicles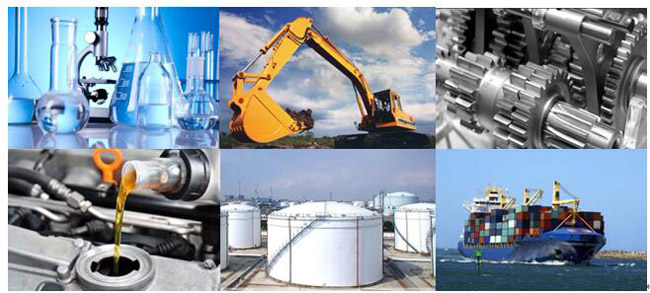 Features:
Capable of rapidly and continuously detecting the water activity in oil(aw).
Capable of accurately measuring micro water content in oil(ppm).
Capable of long and stable operating in harsh operating conditions.
Convenient local calibration function.
High oil resistance and pressure resistance.
Compact structure, easy to integrate.
Two kinds of mode signals output, analog signals, and digital signals.
Structure Size: (Unit mm)

Connection (M8 male port) :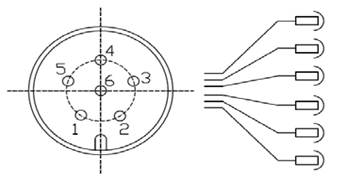 1—Red +24VDC
2—White RS485‐A
3—Black 24VGND
4—Green RS485‐B
5—Yellow 4‐20mA CH1
6—Pink 4‐20mA CH2