YFJ-4 on-line particle counter sensor is developed based on the light blockage method method (photoresistance method) principle, which is used for on-line real-time monitoring of particle pollution in the oil circuit of hydraulic system. It can be widely used in aerospace, aviation, electric power, petroleum, chemical industry, traffic, port, metallurgy, machinery, automobile manufacturing, etc. Detect the oil pollution of solid particle in the hydraulic oil, lubricating oil, transformer oil, insulating oil, turbine oil, turbine oil, gear oil, engine oil, kerosene, water-based hydraulic oil, and detect the particles impurities of organic liquid, polymer solution.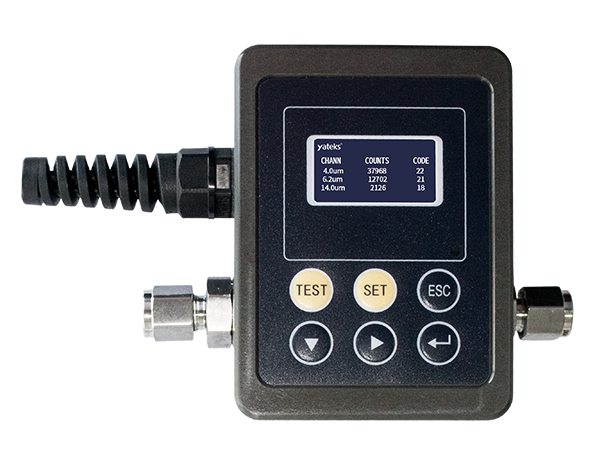 Detection Principle:
YFJ-4 Online oil monitoring sensor for particle count adopt light blockage method which specified by ISO4402/ISO11171 to test the oil pollution degree, which has the advantages of fast detection speed, strong anti-interference, high precision and good repeatability.
Light blockage method is show in figure 2-1. Parallel beam vertical cross the projected area named A and exposure to the photoelectric receiver, when no particles in fluid flow circuit , the output voltage is "E" ; When a particle and shadow area named "a" in the fluid and flows in the projected area , it blocked the parallel beam , the transmitted light attenuation, at this point , there is output "E。" negative pulse in the circuit: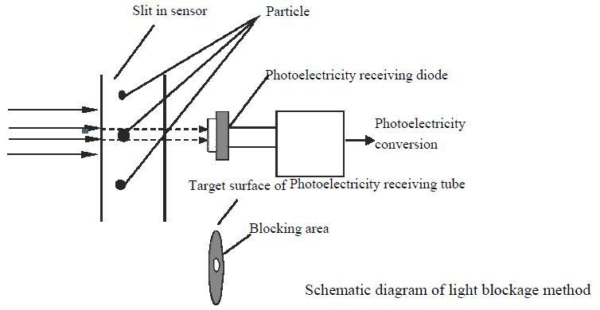 Figue 2-1 Light blocking theory
E。=(a/A)×E                         (2.1)
If the particle is spherical, or the particle is described by the equivalent diameter d, and E is equal to 10v, then   E。=7.854×d2/A                      (2.2)
It means there is a linear relationship between the projected area of particles and the voltage pulse amplitude
Applications:
It can be used for oil pollution degree detection , includes hydraulic oil, aviation kerosene, lubricant oil, transformer oil( insulation oil ), steam turbine oil, gear oil, engine oil, and water-based hydraulic oil,etc.