The Portable Quick Oil Analyzer YPF-15 is equipped with a 5-inch touch screen display, rechargeable lithium battery supports 4 hours of work, heat device can make oil samples at constant temperature up to 100℃ for oil viscosity analysis. YPF-15 can help you quickly perform oil analysis on site, and facilitate the on-site printing of test results records.
The durable design of the portable suitcase is user friendly, convenient and easy to operate.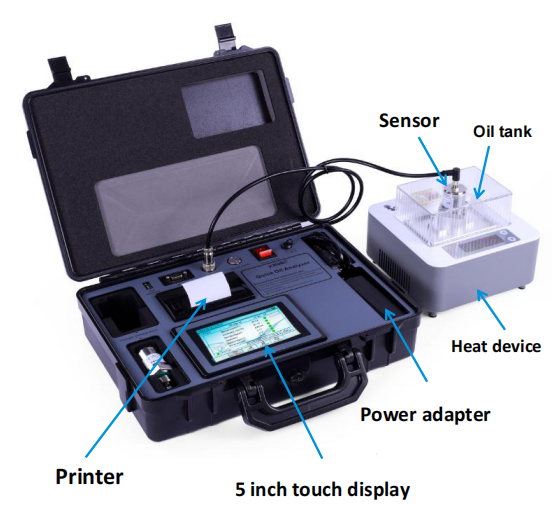 Features:
With different sensors, YPF-15 oil condition analyzer can measure the oil viscosity, density, temperature, dielectric constant, moisture, micro-moisture etc. timely with temperature control device.
Easy to operate: all functions display on the touch screen.
Incorrect operation monitoring function: hint displays on screen when error happens.
Lubricating oil without oil no. can be detected.
High strength structure: can be used for high pressure and high velocity environment.
Special designed corrosion and pollution resistant coating, good for wet parts.
Application:  
Predictative maintenance & On-site engineering service
Hydraulic equipment & system manufacturers
Military equipment applications
Research & testing institutes
Offshore & power generation
Construction machinery
Industrial plant
Marine