YTD-2 Oil Analysis Instrument, Ferrous debris monitor provides an easy-rapid batching analytical way for determining wear ferromagnetic particles in the lubricant. It is not necessary for YTD-2 Oil Analysis equipment to press the lubricant sample. It can directly measure the density of all ferromagnetic particles, thus the wear parts can be detected in the early time of wearing and be replaced in time avoiding serious damages.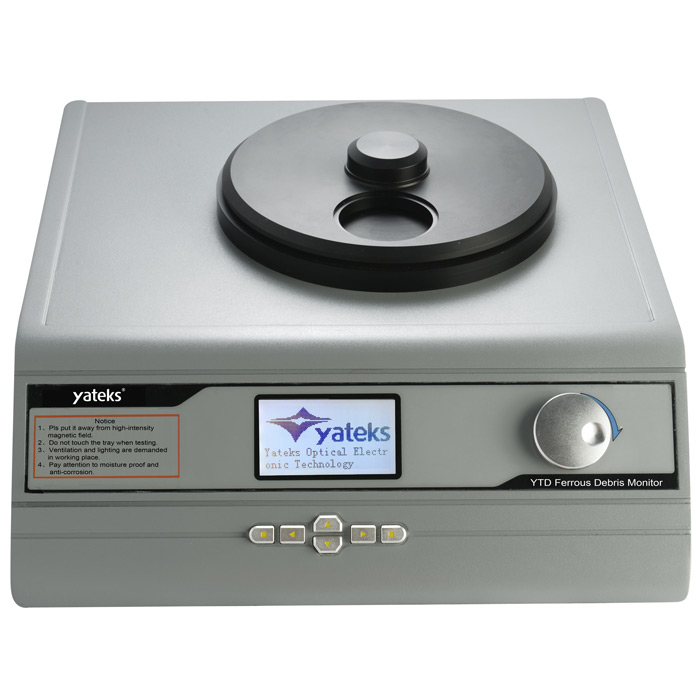 Introduction:
There are several causes for mechanical equipment failure such as wearing, erosion and break etc. Mechanical failures caused by wearing hold a high proportion up to 60%-80%. Lubricant, a circulation in equipment, plays an important role in sealing, lubricating, washing away contaminants, cooling and protecting erosion etc.. Lubricant embodies mechanical wear information, i.e. friction wear property of the friction second surface material. Thus, through monitoring lubricant, we can detect the contamination of the lubricant itself, and also analyze to find out wearing state of the equipment.
Wear particle monitoring is an important method for early warning and avoiding mechanical failure. The YTD-2 Ferrous Debris Monitor can quickly measure the PQ index (total wear amount) of oil samples, and the wear information of the equipment can be timely reflected. By using this instrument, mechanical abnormal wear can be detected at the early stage of wear.
This instrument has been configured with 2ml special oil sample bottles and matching conversion rings for users. After shaking, the tested PQ index has nothing to do with the total amount of oil in the sample bottle if higher than the critical height, which is about 8mm, please ensure more than 8mm when testing. The large ferromagnetic particle will subside under the action of gravity and magnetic force when existed in the oil sample, and the PQ index will increase gradually, through which it can be concluded whether large-size ferromagnetic abrasive particles exist.
 features:
With a patent sensor and signal processing technology, it is of good stability, high sensitivity and high repeatability.
No need of pretreatment to oil sample, the oil sample can be put in its matched container for direct measurement.
Easy operation and measurement result can be available within 10 seconds.
Support connecting with PC with specific software to conveniently analyze history data curve.
Compact design and with power supply AC 220V or 110V(optional).
Applications:
It can be used to analyze containment of particles in mineral oil, composite oil, hydraulic oil, gear oil and lubricant samples.