Reported by Nancy
Date: 2019/11/29
Yateks just released a new model of Online oil monitoring sensor, YTS 61, the world's first product, collects oil moisture, viscosity, density, dielectric constant, water activity, temperature up to six parameters in one sensor.
YTS61 is easy to use, its operation requires no human involvement, and all inspections are done automatically by sensors. Users just need to install the sensor on the pipeline to measure the density, viscosity and temperature during production, or through offline kits to act Lab analysis.
This YTS has greatly increased the user's investment income, help users to get a reliable basis for quality control in the production process. It is a compact, intelligent, reliable and feature-rich online monitoring sensor.
Product Feature:
Up to six oil parameters measurement – moisture, density, viscosity, water activity, dielectric constant and temperature
Imported probe, high accuracy measurement
Smart, durable and accurate
Density accuracy up to : ±5kg.m-3
Viscosity range 1~400cP,Accuracy up to 5%
Wide allowable fluid temperature,0℃ to 100℃ fast response,Data refresh every second
Measurement is not affected by external vibration
All stainless steel, suitable for on-line monitoring robustness, excellent chemical and pressure resistance
No moving parts, no consumable parts, ten years of life, multiple certifications and test reports
Field-calibrated integrated module with small structure and convenient system integration.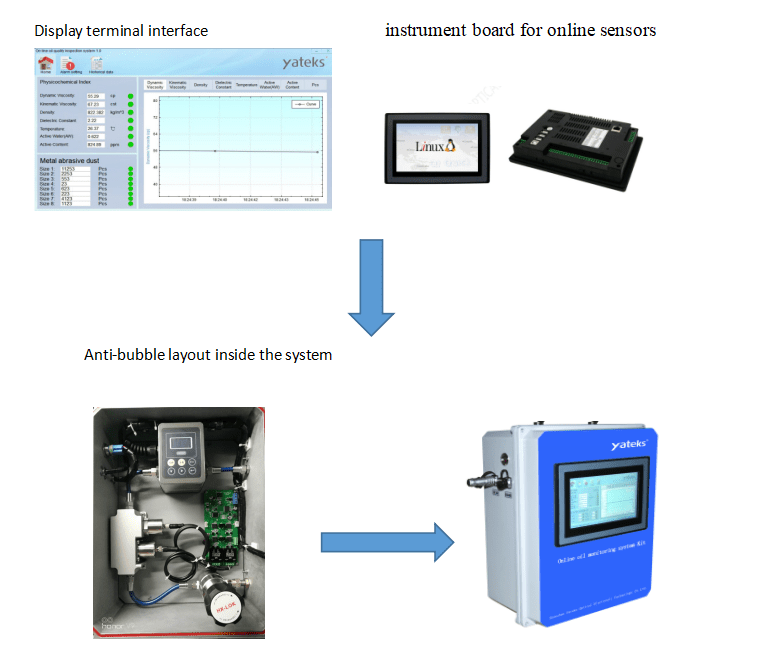 Applicable oil:
Applied to lubricant, hydraulic oil, gear box oil, engine oil, fuel, insulating oil, turbine oil, synthetic oil ester, kinds of light oil and heavy oil, etc.
Application:
It can be applied to oil fuel,oil refining,wind power, hydro-power , thermal power, nuclear power,transmission and distribution, construction machinery, vehicle, aviation,navigation, railway, road transport, steel industry, metallurgy, oil storage warehouse, industry production line,etc.