What are the Advantages of Intelligent Video Bore Scope?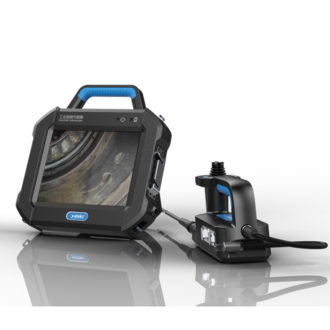 Through the years, rapid industrial development has been driving the increasing demands for industrial Video Borescopes, which are widely used in many applications such as machinery manufacturing, automotive industry, aerospace, casting processing etc. And the technology has also greatly developed along with customers' continuously increased demands for borescopes. Faced with the overwhelmed choice of different brands, customers sometimes may feel confused about the selection of borescopes for his particular application under his budget.
We would be happy to bring into your sight one of our most intelligent videoscopes that have been very popular among our customers, especially customers from EU, USA, Australia, and India etc. We can tell why. Yateks P series videoscope is considered as the most versatile and intelligent, yet affordable RVI devices in the market for high-end demands. With the most intelligent operating system and algorithm optimization, it has the confidence to stand at the similar or even the same level of world famous brands. P series features remarkable viewing effect and easy operating way, making it a priority choice for many NDT professionals over the world to serve different applications.
Yateks P-series High-definition Videoscope is a creative one composed of a convenient handle probe and a small-size body. It displays high image quality due to the high-resolution CMOS image sensor, high-brightness LED+fiber, and software optimization. Detailed, bright images can be clearly viewed on the big 8-inch big touch screen for real-time monitoring/inspection or saved to big capacity 32G SD card for further analysis.
Variety Choices‐front LED, side LED, dual lens with both front and side LEDs,fiber+LED are all available to meet different demands.With the compact and lightweight body, it can be easily taken with you to wherever inspections/demonstrations need to be performed. Featuring interchangeable probes, P series one base unit can match different handle with probes of different diameters such as 2.8mm, 3.9mm and 6mm and different lengths ranging from 1 to 8Mtr. This feature can help customers greatly reduce the cost when different applications are needed.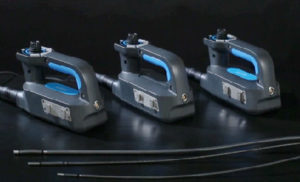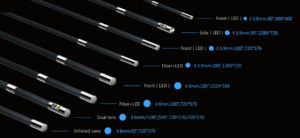 Another remarkable new feature is the color setting function: four modes of color can help the users to get the best image effect for different applications. Some customers even highly praised "this is almost equal to one unit with a different focus because you can always get the best image effect when your color setting is proper in different target distance.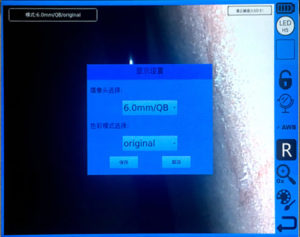 All these features: high image quality, intelligent operating system, and software, ease of use, interchangeable probes – are the reasons that make it one of our most advanced products, improving our customers' productivity, working efficiency, convenience in different inspection settings.
See the more details: