Predictive maintenance measures are crucial throughout the lifecycle of industrial equipment. By monitoring the oil condition of the equipment, potential failures and abnormalities can be discovered in time, avoiding equipment downtime and damage, and improving production efficiency and equipment reliability. Intelligent industrial equipment oil monitoring and fault diagnosis is to transform the traditional manual inspection and regular maintenance into an automated process based on data analysis and intelligent algorithms, which can more accurately predict the life and failure of equipment and provide corresponding maintenance suggestions .
Industrial equipment in different industries has its own particularities, requiring customized oil monitoring solutions to solve specific problems. Yateks oil monitoring solution can effectively solve the monitoring problems of equipment working conditions and environments in various industries.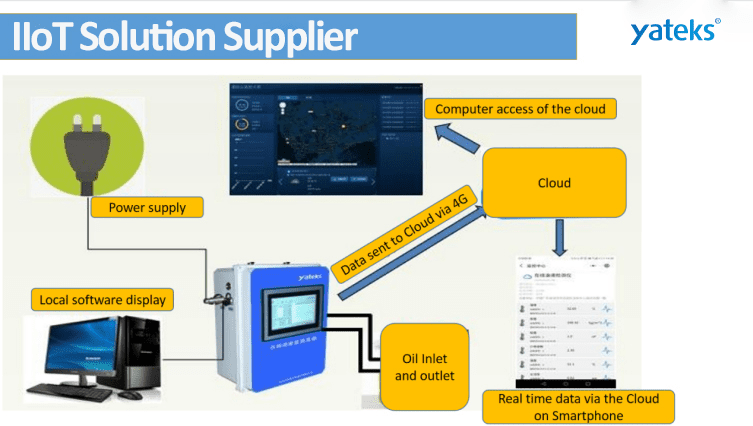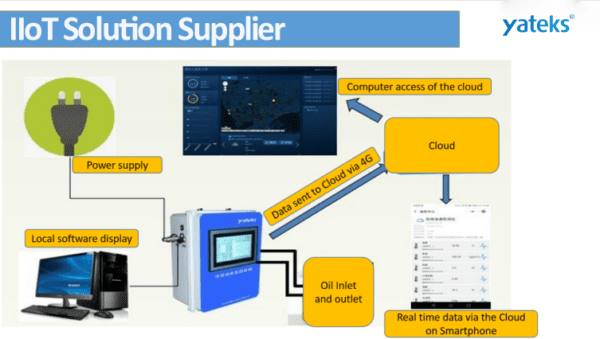 This system is widely applicable to all kinds of industrial equipment, and can effectively monitor the life of oil products in a predictive manner. Change the complicated point selection and working condition barriers of traditional online oil monitoring, and the application status of one machine and one condition.
Application fields
1.[Coal Mine] It is used for lubricating hydraulic systems such as coal shearers and mine hydraulic props for large-scale excavation, excavation, and loading locomotives in coal mining and mining industries;
[Petrochemical industry] Oil recovery machines, generator sets, hoisting equipment, mud treatment equipment during mining and transportation, and lubrication systems such as propulsion systems, compressor systems, centrifuge systems, and power steam turbine systems for transport ships;
2.【Energy industry】For nuclear power, wind power, hydropower, thermal power and other power plants and power construction, gas turbine generator sets, steam turbines, turbines, compressors, cooling towers, gearboxes and other lubrication systems;
3.【Ship port】used in the power system, pitch change system, propulsion system of ships, heavy machinery gearboxes, diesel engines and other lubrication systems;
[Iron and Iron Metallurgy] Lubricating systems such as generator sets, continuous casting machines, cold/hot rolling mills, steel rolling mills, heating furnaces, fire pumps, transmission systems, reducer systems, hydraulic systems, and thin oil lubrication systems;
4. [Heavy Machinery and Shield Tunneling] Lubricating systems and hydraulic systems of shield machines, roadheaders, fracturing vehicles, vibrator vehicles, cranes, shearers, excavators, die-casting machines, fracturing vehicles, and cementing vehicles;
5.【Food and paper making】centrifuge, chiller, thin oil station, shoe press station, winding machine, press section, drying section, sizing machine and coating and other lubrication systems;
6. [Cement building materials] Raw meal mill reducer, cement mill reducer, coal mill reducer, coal mill main motor, circulating fan, roller press reducer, rotary kiln moisturizing system, circulating bucket (gear oil system), roller press Machine hydraulic system, steam turbine, cement mill pressure maintaining system (hydraulic system);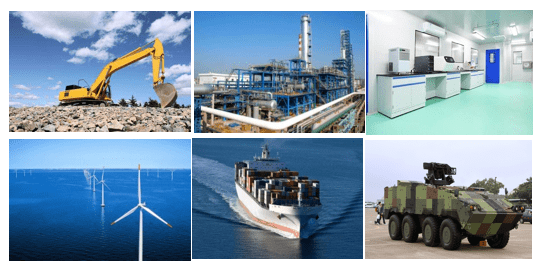 The customized oil monitoring solution solves the monitoring problems of equipment in different industries. The oil monitoring solution of Yateks is suitable for various working conditions, provides efficient oil monitoring and fault diagnosis functions, and provides effective solutions for the industry. If you need, please contact us in time.