Author: Jenna
Date: 2019/11/18
It was a long trip from China to Mexico for exhibition and then to the USA for visit, but it's quite wonderful beyond expectation!
Mexico City is very different from all the other cities we visited before. Most people here speaks Spanish and only few people can speak English. This was the biggest barrier for all things. Fortunately, our partner helped us a lot, from the transportation, accommodation, food all the way to the receipt of customers on exhibition. Really appreciate!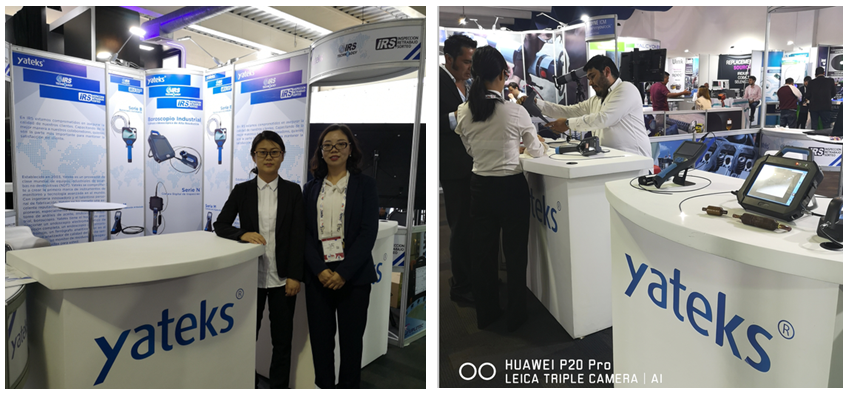 On the exhibition, many professional customers tried and loved our products, among which our M-ADV 2.8mm borescope and M-UV borescope got the most praise and love. What's more, some customers showed great interest in distribution of our products in their country. It was so wonderful that we could move another more steps on this market with the help of our partners. It would be a win-win relationship for development of both sides.

Having gained great achievements in exhibition, we moved to our next destination: the USA. Short days of visit enabled us to see our nice customers in person and have face-to-face communication.
From customer A, we got to see a small but fully-equipped office, including borescope sales, renting and repair etc. and many interesting and useful assisting tools for endoscopes. What's more, we demo our most popular borescope and discussed a lot about products, marketing, and cooperation intention. It was such a nice talk from the morning till 15:20pm!  Customer B is our stable partner. Everything was arranged so well! We were so excited to visit his office and see his team in person. It was so nice of him to take us to one of his customer—the helicopter company for a visit, and we talked a lot of the application, sales, marketing etc. To understand and satisfy customer's demands is always our mission!