Oil Condition Monitoring (OCM) is a crucial element of any predictive maintenance schedule. OCM includes measuring, monitoring and analysing changes in lubricant and fuel oils for contamination and chemical content, and tracking degradation in oil quality from new to end-of-life.
2.How are oils analyzed?
Oil analysis is the analysis of a lubricant's properties, composition, and contaminants. It is a routine activity used to determine the health of oil and the machinery in which it is used. Think of it as a blood test for machinery.
3.What oil analysis solutions can Yateks provide?
Yateks , manufacturer of oil condition sensor, oil analysis instruments and solution provider of online oil condition monitoring system.
Install online or system for detecting Density, Viscosity, Temperature, water activity (aw) , Accurately Moisture (ppm), Oil Quality(Dielectric constant), Particles, and Wear debris particles and monitoring the real-time condition, to reach remote system control and track historical data for changing trend analysis.
Integrated and multi-functional system to monitor the condition conveniently and easily. Support customize design to meet special demands for certain condition or project under efficient and reducing-cost solution, Remote system control and track historical data for changing trend analysis.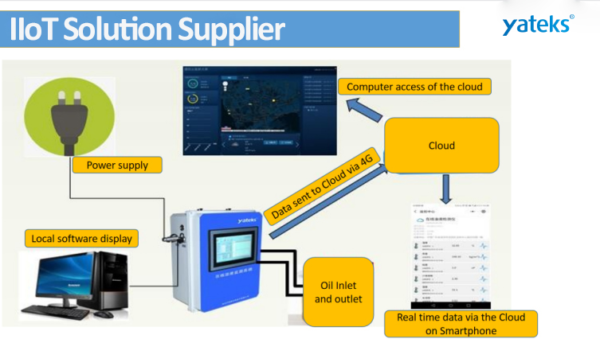 Economic, easy operation and durable oil analysis instrument and equipment for laboratory analysis, offline testing and field work.
a  Quick oil analyzer YPF-10S , Testing physical and chemical indicators.
b. Portable particle counter YJS150, Testing total particles range from 1-400μm.
C.Ferrous debris monitor YTD-2, Easy-rapid analysing on wear ferromagnetic particles.
d. Dual analytical ferrograph YTF-8, Effective Qualitative analysis on the wear particles in lubricant oil of the machinery,accurately identify wearing components and track the machinery health and working condition to predict potential failure and prevent great loss caused by the machinery stop work.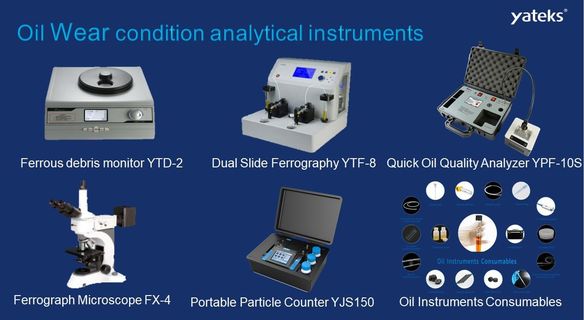 3. Where can oil analysis products be used?
Our oil analysis products almost applied all industries
Transportation
Automotive
Aerospace
Marine
Heavy Vehicles
Locomotive engines
Industrial
Oil& Gas
Power
Mining
Construction
If you have interested it,please contact us info@yateks.com