Author: Ella
Date: 2020/01/11
What are the types of ferrographs?
There are many types of ferrographs developed at home and abroad, and they have also proposed different classification methods from different angles. Since the magnet device is the core part of the ferrograph, if it is divided according to the working principle of the magnet, it can be divided into a permanent magneto spectrograph and an electromagnetic ferrograph. According to the machine condition monitoring method, it can be divided into offline ferrograph and online ferrograph. If divided according to the needs of the quantitative and qualitative analysis of ferrography, it can be divided into analytical ferrograph, direct-reading ferrograph, duplex ferrograph, etc. All three types of ferrograph are offline ferrograph instruments. In addition, if different classification is made according to the production principle of ferrograph, it can be divided into a rotary ferrograph and fixed ferrograph.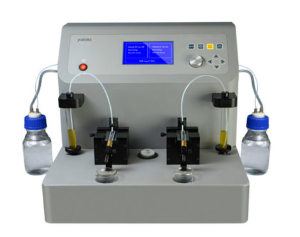 The principle of Yateks dual slide ferrograph YTF-8 is to use a high gradient strong magnetic field to separate dysprosium magnetic abrasive particles in machine oil and deposit them on the glass sheet in order according to their size. Then observe the shape and size of the abrasive particles through a two-color microscope, and analyze the composition. You can also use a reader to determine the percentage of abrasive particle coverage.
Product Features:
Adopt specialized atmospheric pumps. Ensuring reliable and steady oil transmission.
With a ferrographic image processing system, including image acquisition hardware and processing software.
Unique velocity adjusting deices at the oil outlet to guarantee a success rate of making a ferrogram.
Powerful foreign object discharge function
No limitations of the lubricant type to be monitored.
Two ferrograms made at the same time advanced the making velocity of the ferrogram.