Shenzhen Intellectual Property Rights award ceremony for the preponderant enterprise was held in an industrial and commercial building on 14th, Oct 2015.
More than 100 guests, including 20 preponderant enterprises, experts and heads of intellectual proper right attended the meeting. Yateks, as the preponderant enterprise was invited to the award ceremony.
The meeting consisted of IPR preponderant enterprise of 2014 award ceremony, latest policy and promoting deployment of IPR. Mingchun Fan, deputy director of market supervision committee said at the meeting that: IPR has achieved remarkable results in the past 30 years, but there are still improvements to be made.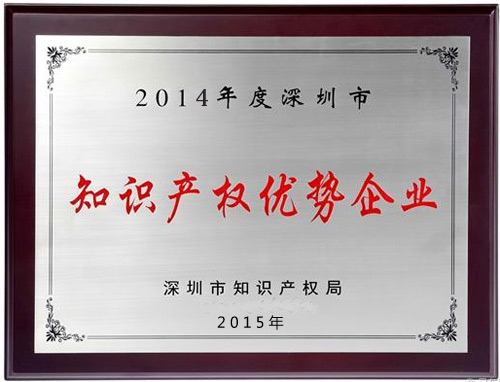 Yateks, as a national Hi-Tech enterprise, world-class monitoring manufacturer, has established its IPR management system and has patents for all the key products, such as an industrial endoscope, ferrograph oil analysis equipment, stethoscope, and tachometer. Yateks'efforts have been fully recognized over the years by this award ceremony.
Appendix "2014 IPR Preponderant Enterprise" Company Name



Shenzhen Dajiang Innovation Technology Co., Ltd.
China Construction Steel Co., Ltd.
Shenzhen Etech Information Technology Co., Ltd.
China Resources Sanjiu Pharmaceutical Co., Ltd.
Shenzhen Derun Electronics Co., Ltd.
Shenzhen Yinbaoshan New Technology Co., Ltd.
Shenzhen Ainengsen Technology Co., Ltd.
Ping An Technology (Shenzhen) Co., Ltd.
Shenzhen Jingwang Electronics Co., Ltd.
Shenzhen Yatai(Yateks) Photoelectric Technology Co., Ltd.
Shenzhen Yidian Technology Co., Ltd.
Shenzhen Mingwei Electronics Co., Ltd.
Shenzhen Yufu Lighting Co., Ltd.
Shenzhen New Industry Biomedical Engineering Co., Ltd.
Shenzhen Jinjia Color Printing Group Co., Ltd.
Shenzhen Bodewei Environmental Technology Co., Ltd.
Shenzhen Ruihe Building Decoration Co., Ltd.
Shenzhen Aikerui Electric Co., Ltd.
 Guangzhou Huajin United Patent & Trademark Agency Co., Ltd. Shenzhen Branch
Shenzhen Lianchuang Intellectual Property Service Center