Industrial Borescope, as a remote visual extension of human eyes, is an essential NDT tool to view those narrow and dark areas which is difficult to access. With the development of modern industry, it is more and more wide needed in many different industries for quality check in many procedures during R&D, production , and maintenance for machinery. The automotive industry is one of the most typical industries served by borescopes to do many inspections, including engine (cylinder, cylinder head, cylinder liner, valve, piston top,etc.), water pump drain hole, coolant leakage, radiator fixation, brake pad, fuel pipeline and tank etc. Here I'll main introduce the car engine inspection camera.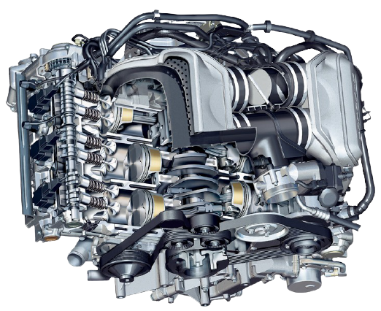 Why industrial borescope inspection is important to car engine
 Car engine provides the driving force for vehicles. Similar to the human heart, the engine is the heart of automotive vehicles, which decides the car's key performance such as whether the driving force is plenty or not, the response speed is quick or not and the fuel consumption is low or not,etc. So important  is that the quality of its all components needs to ensure in all procedures.
With the increasing competition in the automotive industry market, car manufacturers are more devoted to developing and producing car engines of good quality and offering nice maintenance services. In these processes, the automobile engine inspection camera plays an important role to help supervise the quality.
For example, during the development & production, the car engine inspection camera can  use to check the internal surfaces to see if there are cracks, burs, and defects, etc., so that those unqualified engine cylinders and cylinder heads won't  use in car assembly, to avoid causing customers' complaints and increasing maintenance cost. During the car MRO(Maintenance and Repair Operating), the borescope probe can insert into some key areas to inspect whether there is oil leakage, rust, cylinder scuffing, carbon deposition, dust blocking, cracks, and breaks, etc. without disassembling the whole engine. It is high efficient non-invasive inspection tool, which can help you save lots of time and cost, and offer good proof(inspection photos of certain parts) to your customers.
1.Excellent image quality with sufficient light.
theImage quality depends on lots of factors such as camera sensor resolution, optical lens focus and uniformity, display screen resolution, image processing technology and light source, etc… While choosing a car engine inspection camera, it's not wise to only stare at the parameter of resolution. It is best to refer to comprehensive parameters that require field test results. When you do inspections for different areas of the car engines, you'll find whether the image quality is good enough and the light is sufficient enough to inspect all required areas.
2.Flexible articulation and probe bending.
Borescopes with articulation are more obvious advantages than borescopes without articulation, as it allows the probe to  controll to bend for different directions to reach the certain inspected surface. The flexibility of articulation main depends on the design of the steering structure. Not only the steering mechanism should be good enough to support flexible articulation, but also the inside steering wires need to be durable enough to withstand many bending at the bending area. When you choose a car engine inspection camera, one important point is to pay attention to the articulation smoothness to see whether it's easy and flexible enough to reach where to inspect.
3.Wear-resistant insertion tube.
Automotive inspection, especially the inspection of cylinder head, requires high frequency use of industrial borescopes. In this such applications, wear-resistant insertion tube is quite important to withstand such intensive use of inserting and withdrawing. There are main three types of materials for industrial borescopes: stainless spiral tube, stainless-braided tube, tungsten-braided tube. The tungsten-braided tube is the most wear-resistant.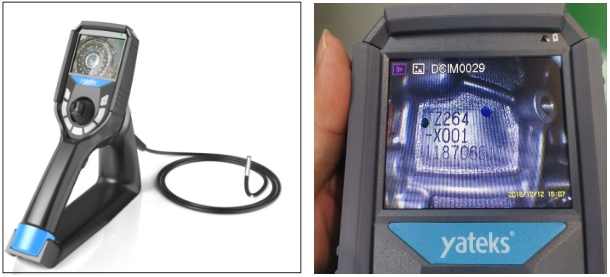 What Yateks car engine inspection camera can do for you?
 As a manufacturer of industrial borescope, Yateks has been devoted to developing and producing different borescopes for different industries such as aviation, the automotive, casting, chemical processing, power generation, manufacturing, pharmaceutical industry, and so on. For car engine inspections, our industrial borescopes have used and liked by many famous car manufacturers and service providers such as Audi, BMW, Volkswagen, and Nemak, etc. in daily use of quality control and MRO.
Why do they love the yateks car engine inspection cameras?
Yateks M and M-ADV Series industrial borescope has excellent image quality, flexible articulation with good durability of over 100,000times' bending, and four-layer tungsten-braided insertion tubes for the automotive industry use. What's more,
Yateks has been inputting lots of effort into quality control from the raw material, assembly process, and finished products, with a specialized quality control team and different testing devices, as we full understand how important it is for an enterprise. By following a strict quality control system, Yateks can not only offer you excellent samples/demonstration units but also offer you manufactured borescopes at good quality in line with the samples. In a word, if you are in the automotive industry and you need lots of car engine inspection cameras to allow them to different production lines, Yateks M Series will be a great option for you, as we can handle your batch order well and ensure the quality for your every unit.