With the increasing demand for cars, cars have become an indispensable travel tool in people's lives. The development of the automotive industry is also constantly getting bigger. People are paying more and more attention to car repair and maintenance. Visual inspection is one of the very important methods in car maintenance. and the internal structure of the car is usually more complicated. Flexible, accurate, high-definition, easy-to-operate industrial endoscopes are indispensable props for car maintenance.
     Yateks has designed a portable industrial borescope
specifically
for the automotive repair industry. B+ series portable endoscopes are products with very comprehensive functions and prices. It has powerful image processing technology, and the details can also be well-reflected. The flexible bending section ensures that every part
is observed
. It can be
accurately
positioned even in a very complex working environment.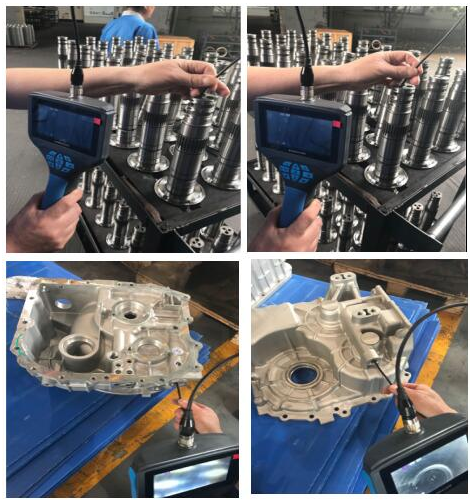 1.Adopt a 5.0 inch IPS wide viewing angle screen.854*480 resolution.
2.The high-definition large screen ensures that the eyes are not fatigued for a long time watching
3.Lightweight equipment, the weight of the whole machine is about 0.7KG
4.Equipped with a very simple and practical software operating system.
5.There are many settings available. LED brightness, special effect, zoom-in, freeze, grid, rotation, 6.proportion, and white balance.
7.You can choose different functions according to your needs.
8.Even people who use an endoscope for the first time can use it
quickly
and
skillfully
.
9.Standby more than 6 hours, can guarantee long time work.
1.B+ series have 2.2mm diameter, 2.8mm diameter, 3mm diameter, and 4mm diameter with 1-3m insertion tube length.
2.2.2mm diameter ultra-fine lens, with 450,000 pixels.
3.4mm diameter lens with megapixels.
4.High-resolution images.
5.A variety of specifications can select to meet different work demands
7. The main base can identify probes of different sizes, its can saves customers' costs.
8.Using tungsten braid, very wear-resistant and durable.
If you
are interested
in our B+ series industrial borescope, please don't hesitate to contact Yateks.We will provide you with competitive prices, professional online guidance, excellent after-sales service.